Cantilever Parasol Base Tile – sand fillable – 20kg (Single Slab)
$ 39.06 Including VAT
Cantilever Parasol Base Tiles/Slabs/Weights. Made from a clever, tough durable hollow plastic design that can be filled with sand/water and configured to produce the necessary weight for your parasol cross-base.
In stock
Description
Cantilever Parasol Base Tile – sand fillable – 20kg – single tile (2 interlocking triangles)
This single cantilever parasol base tile is designed for cross-type-base cantilever parasols.  Note: this product only works in conjunction with an existing parasol cross-type base. Buy one of these as a replacement for broken/damaged cantilever parasol base weights. Or buy multiples (sets) and combine them to configure to your specific cantilever or side-arm parasol weight requirement. Each pack consists of 2 triangles that connect together to form a square-shaped base weight. Made of hollow durable plastic, each complete base tile weighs just 2 kg when empty, yet 20 kg when filled with sand/water.
The lightweight design makes them easy to carry and manoeuvre around your garden or patio. This also makes them cheaper to ship online due to significantly lower transportation costs. They are made from a tough anthracite grey coloured plastic. Concrete or granite cantilever parasol base slabs are prone to damage in transit. These are not!
You'll find this cantilever parasol base tile is very versatile, thanks to a really clever design. Each complete base weight inserts into one of the 4 different quadrants of your parasol's cross base. A number of different weight configurations are possible.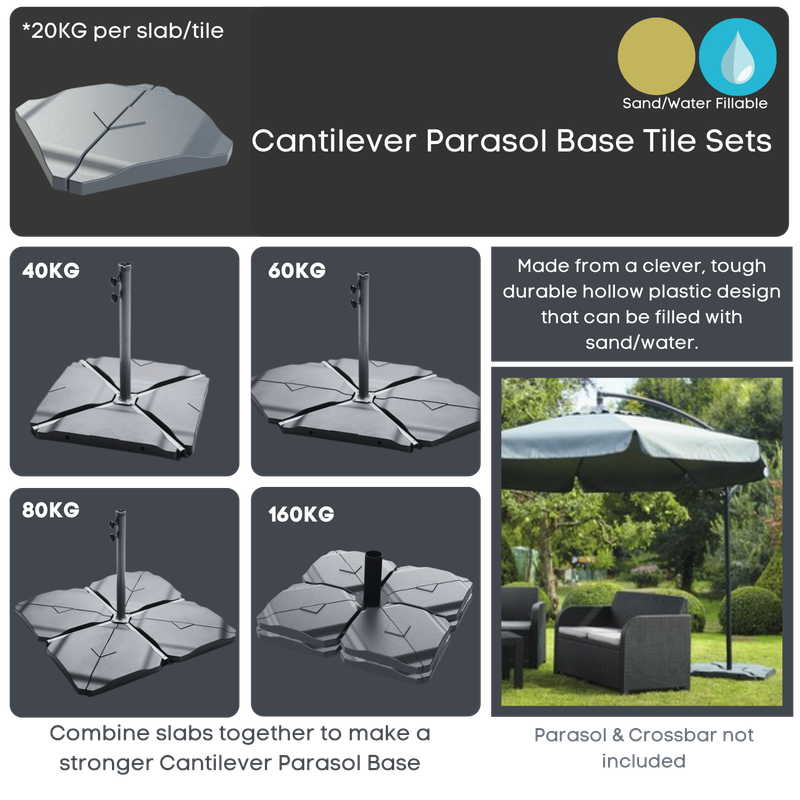 Other Sets/Bundles
And what's more, they're stackable. Here are the most common options for combined bundles (sets) ranging from 40KG up to 160KG.
Video demonstration of setup & instructions!