Harston Grade A Teak Stacking Arm Chair
$ 297.51 Including VAT
Harston Grade A Teak Stacking Arm Chair
This Harston Grade A Teak Chair is a comfortable, classically designed arm chair made from premium Grade A Teak from well managed forests. It's the perfect addition for gardens/patios but also suitable for commercial use, which is assured to last a long time, even in the outdoors.
Out of stock
Description
Harston Grade A Teak Stacking Arm Chair
The Harston Stacking Arm Chair is made from premium grade A teak. This teak is sustainably sourced from well managed forests, so you know you're purchasing a product with premium material applied. This classically designed chair is ideal for outdoor dining and will last for decades. Whether its a commercial setting or home garden, even if its left outdoors, it will last! This Teak Arm Chair will come fully assembled which will allow you to relax in this chair straight away. No assembly required.
This Harston Stacking Arm Chair is made from premium grade A teak. It is an innovatively designed chair which neatly stacks together for saving space in the garden. Ideal if you sometimes have a lot of guests over for a get together or BBQ and overall dining.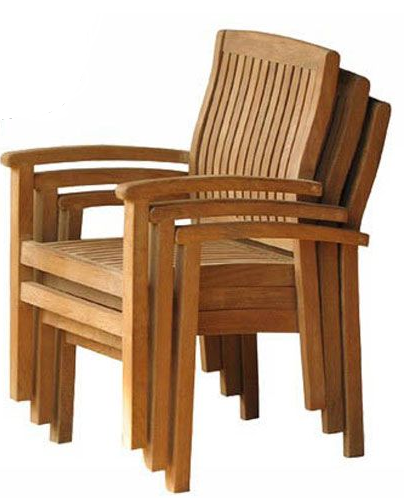 It is ideal for outside usage, built with comfort in mind. Created to withstand commercial use. This chair will have a long lifespan either untreated or treated due to the natural oils in grade A teak. All of our teak products are sustainably sourced from managed forestry. This is so you know you're getting a premium quality product.
This stacking arm chair can remain outdoors all year round in all weather condition, requiring only minimal maintenance, and if left untreated it will turn from its warm golden colour to a coveted equally as nice silvery grey.
This high quality chair is excellent value for money and can be used in either a commercial setting or a home garden.
Here at Cave Innovations, we strive to provide the best customer experience possible, so if you have any questions or queries regarding this product. Please don't hesitate to let us know because we always want you to have a great experience when shopping with us.