Hidey Hood 90 Universal Mobility Scooter Cover
$ 151.07
The universally useful Hidey Hood 90. Fix it to a wall or fence and then benefit from the easy lift access to store garden furniture, BBQs, bikes etc.
Out of stock
Description
Welcome to our innovative HideyHood 90 folding, wall-mounted, outdoor mobility scooter cover/storage hood. Fits pretty much all mobility scooters that we know of! If you don't have access to indoor storage space, the Hidey Hood 90 Universal Mobility Scooter Cover is a great way to protect your mobility scooter from the weather.
2021 Update: HideyHood 90 is now made from a thicker 180g polyurethane-coated polyester fabric!
Easy To Use Cover for Mobility Scooters and more.
No need to mess around in the rain pulling a tight-fitting cover down over your scooter. Simply drive up beside the Hidey Hood 90, unhook and drop it down – your scooter is undercover instantly.
Fixes to a wall or fence as low as 115 cm (45 ½")
Quick and easy to assemble – multiple fixing points keep it in place
The universal scooter storage solution fits most models
Designed to be easy to use
Folds neatly up against the wall when not in use
The unique dome shape allows rain to simply run off
Integral awning to prevent rain pooling in the pleats when folded back
Elasticated loops & eyelets for pegging down
Strong, light & flexible fibreglass framework
Height 1.67 m (66″). *Width 2.5 m (98 ½"). Depth 1.67 m (66″).
Fixing kit included – **screws, wall plugs, guy lines and pegs (stakes)
Manufactured using a tough polyurethane (PU) coated 180g polyester fabric with a hydro-static head of 1500 mm
Mail order packaged – weighs approx 4 kg (9 lbs): pack dimensions 51 cm (20″) x 31 cm (12″) x 8 cm (3″)
*Note: check that you have at least 2.5 metres (8 ft 2″) of available wall or fence space before purchasing. Product returns will not be accepted if you purchase this product and subsequently find it's too big!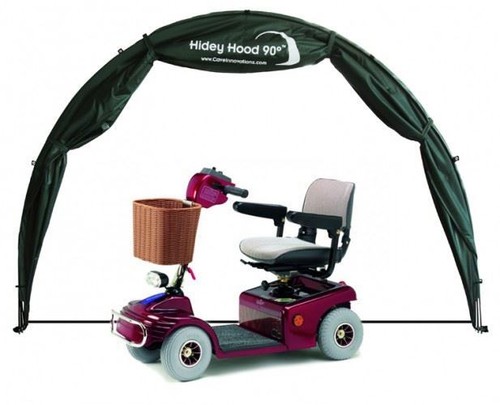 Hidey Hood 90 Scooter Cover – Designed for Ease of Use
Here's another "I wish I'd thought of it" product. The Hidey Hood 90 complements the innovative range of outdoor storage solutions from Cave Innovations. The motivation behind our HideyHood 90º mobility scooter cover was to provide a cost-effective and easy-to-use outside storage solution for mobility scooters. As the list of possible models grew so did the product… literally.
The HideyHood 90º now stands 1.67 meters (5 ft, 6″) high, the same front to back, and 2.5 meters (8 ft, 2 ½") wide. It's great value, straightforward to assemble, easy to open or close, and extraordinarily versatile. We have yet to find a scooter it won't accommodate. We're actually finding that people are buying the HideyHood 90 not only for sheltering and storing mobility scooters but also for all sorts of other items such as bikes, motorbikes, BBQs, patio furniture …
You can use the integral rain awning to help hold it up, out of the way, and prevent rain from building up in the folds. This saves you from a soaking when you close your HideyHood ® after a rainstorm.
Assembly and Installation
Quick and easy to assemble. Just slide the five fibreglass poles through the sleeves and insert the steel D-Ring "hinge pins" into the ends of the rods at either end. The eyelets around the outer edge secure your HideyHood® 90º to the fence, wall, or shed. The clever rear wind block panel, with its five brass fixing eyelets, allows you to use it on fences or walls as low as 115 cm (45″). Wall plugs and screws are included. Installation is quite possible for one person, but far easier with two… because they're bigger than you think! This clever mobility scooter cover can be packed away in just a couple of minutes when not required and you can take it with you when you move. Try that with a shed!
Hidey Hood 90 – Safe and Secure!
The Hidey Hood 90 mobility scooter cover has big smooth curves, which encourage rain and snow to just run off. The front simply lifts up to provide full, instant access. Toggle and loop straps let you fix it, out of the way when not in use. There are seven pegging loops, so if you site it on soft ground, you can use the pegs provided to fix it down. One of the most common questions we're asked is does the wind tend to lift it up, if I choose not to anchor it down. The answer is, no it doesn't. You'll find that generally even in quite high winds it stays down. It might move a little from side to side but it stays down. Many people choose to install their Hidey Hood 90 on hard-standing, on their drive, or on their patio.
Concerned about security? For additional peace of mind, you might want to consider the optional Anka Point security bracket. Fix your Anka Point to the wall with the special "one way" anti-theft security screws provided and use a chain or bike lock to keep your scooter safe inside your HideyHood® 90º. For more information about the Anka Point, click here.
HideyHood 90 Specifications
HideyHood® 90º is manufactured using a tough polyurethane (PU) coated 180g polyester fabric with a hydrostatic head of 1500 mm. PU tape on all the seams helps keep out the rain. The poles are supplied interconnected with elastic. They're made of strong, light, and flexible fibreglass.
Dimensions when assembled:
Width: 250 cm (98″)
Height: 167 cm (66″)
Depth: 167 cm (66″)
And you'll be amazed at how small this product is when packaged. The HideyHood® 90º is supplied in mail-order packaging. What's more, they're extremely easy and cheap to transport and install compared to a traditional, wooden garden shed.
Pack size just 51 cm (20″) x 31 cm (12″) x 8 cm (3″). Weight:  kg (9 lbs) – (approx.)
Please note we also sell a larger version of this product which is free-standing and twice the size, known as the HideyHood 180, click for more info.
HideyHood Maintenance
Over time the sun's damaging UV will cause the fabric to fade and degrade. To maintain your HideyHood you must spray or coat the fabric regularly (at least every 6 months) with a proprietary UV Protection and Waterproofing tent spray. We strongly recommend Nikwax Tent & Gear Solarproof/Waterproofer. One spray can double the effective life of the fabric and make it more durable. Click here for more details
Intellectual Property
Hidey Hood & HideyHood have registered trademarks.
The HideyHood 90 is protected by European Community design registration and US Design Patent.
International patents & design registration applied for.